OUUS Members Meets Ihor Dolgov
After presenting at the Oxford German Forum, the Ambassador of Ukraine to Belgium and Head of the Ukrainian Mission to NATO Mr. Ihor Dolgov met the members of the Oxford University Ukrainian Society.
The meeting took place at Campion Hall where the members of the Society had an excellent opportunity to talk to the Ambassador. Mr. Dolgov was interested in hearing about students' experience at Oxford and their future aspirations. He stated that the new generation of well-educated people will be an essential impetus and force in changing Ukraine for the better.
The members of the Oxford University Ukrainian Society also availed of the chance to get insight onto cooperation between Ukraine and NATO. After the meeting, the Master of Campion Hall kindly took the guests on a friendly tour of the premises showing precious collections of art, as well as the Hall's chapel.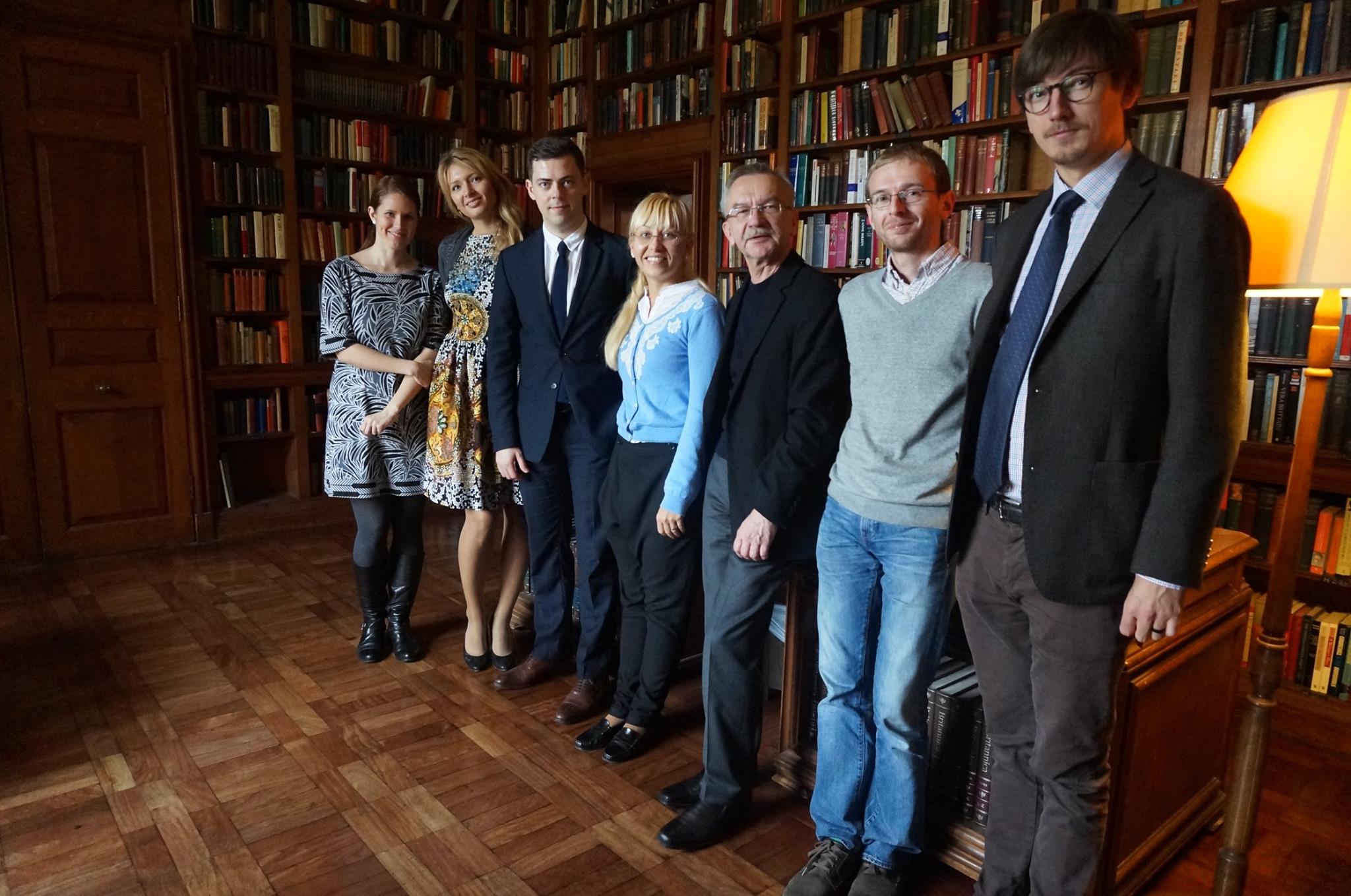 Top
News
Nov 4, 2018
Serhiy Zhadan: Ukraine's Enfant Terrible
Date: Monday, 12th November 2018
Time: 7pm - 8.15pm
Venue: Knowledge Centre, The British Library,
96 Euston Road, London NW1 2DB
Fee: £10
An evening with one of Ukraine's most iconic contemporary writers: poet, intellectual and ska ban frontman Serhiy Zhadan.
Chaired by Eastern Europe specialist Uilleam Blacker of University College London.
Organized by the British Library in partnership with Ukrainian Institute in London.
Sep 17, 2018
Sheptytsky and Holocaust
Date: Thursday, 4 October 2018
Time: 7pm - 9pm
Venue: Ukrainian Catholic Cathedral of the Holy Family in Exile, 22 Binney St, Mayfair, London W1K 5BQ
Admission: £10. 
Book here
Hosted by Ukrainian Events in London and Ukrainian Institute, London.
Andrei Sheptytsky, the Metropolitan Archbishop of the Ukrainian Greek Catholic Church, is an extraordinary figure among Christian church hierarchs of the 20th century. Presiding over the Church under the Nazi occupation of Galicia during WW2, he was put into a situation where difficult compromises had to be made while struggled to remain true to the idea of a sovereign Ukrainian nation and to protect Jews during the Holocaust.
This event will bring together a Jewish academic studying Sheptytsky's legacy and a Jewish Holocaust survivor who knew Sheptytsky and was saved by him.
Jul 1, 2018
The Revolution of Dignity - Organising a Revolution
Date: 8th July 2018
Time: 3.30pm - 4.30pm
Venue: The Jam Factory, Oxford
You are warmly invited to a photography exhibition and panel discussion about the organisation of the Ukrainian Revolution as part of the Revolution of Dignity exhibition at The Jam Factory. The panel features prominent activists and academics involved in the revolution, offering up their own experiences and answering any questions you may have. It will be another compelling and insightful event.
Jun 10, 2018
Talk by Dmytro Kuleba: Ukrainian Ambassador to Council of Europe
Date: 19th June 2018
Time: 5pm - 7pm
Venue: Investcorp Lecture Theatre, St. Anotny's College, Oxford
"Ukraine's Lesson of Communication Warfare" 

Join OUUS for our final event of Trinity term - a talk by Dmytro Kuleba, Ukraine's Permanent Representative to the Council of Europe. This event is co-hosted by the Centre for Russian and Eurasian Studies, at St Antony's College. 

Ambassador Kuleba will discuss what Ukraine has learnt since 2014 about deterring external and internal communication attacks on Ukraine's society and state institutions, how communications warfare shapes Ukrainian politics, and what other countries can learn from Ukraine. The discussion will cover such issues as Russia's meddling in Ukraine, the fragmentation of society by the means of communications, challenges of the perception of Ukraine in the West, and the problem of fake news.