OUUS Members Meets Ihor Dolgov
After presenting at the Oxford German Forum, the Ambassador of Ukraine to Belgium and Head of the Ukrainian Mission to NATO Mr. Ihor Dolgov met the members of the Oxford University Ukrainian Society.
The meeting took place at Campion Hall where the members of the Society had an excellent opportunity to talk to the Ambassador. Mr. Dolgov was interested in hearing about students' experience at Oxford and their future aspirations. He stated that the new generation of well-educated people will be an essential impetus and force in changing Ukraine for the better.
The members of the Oxford University Ukrainian Society also availed of the chance to get insight onto cooperation between Ukraine and NATO. After the meeting, the Master of Campion Hall kindly took the guests on a friendly tour of the premises showing precious collections of art, as well as the Hall's chapel.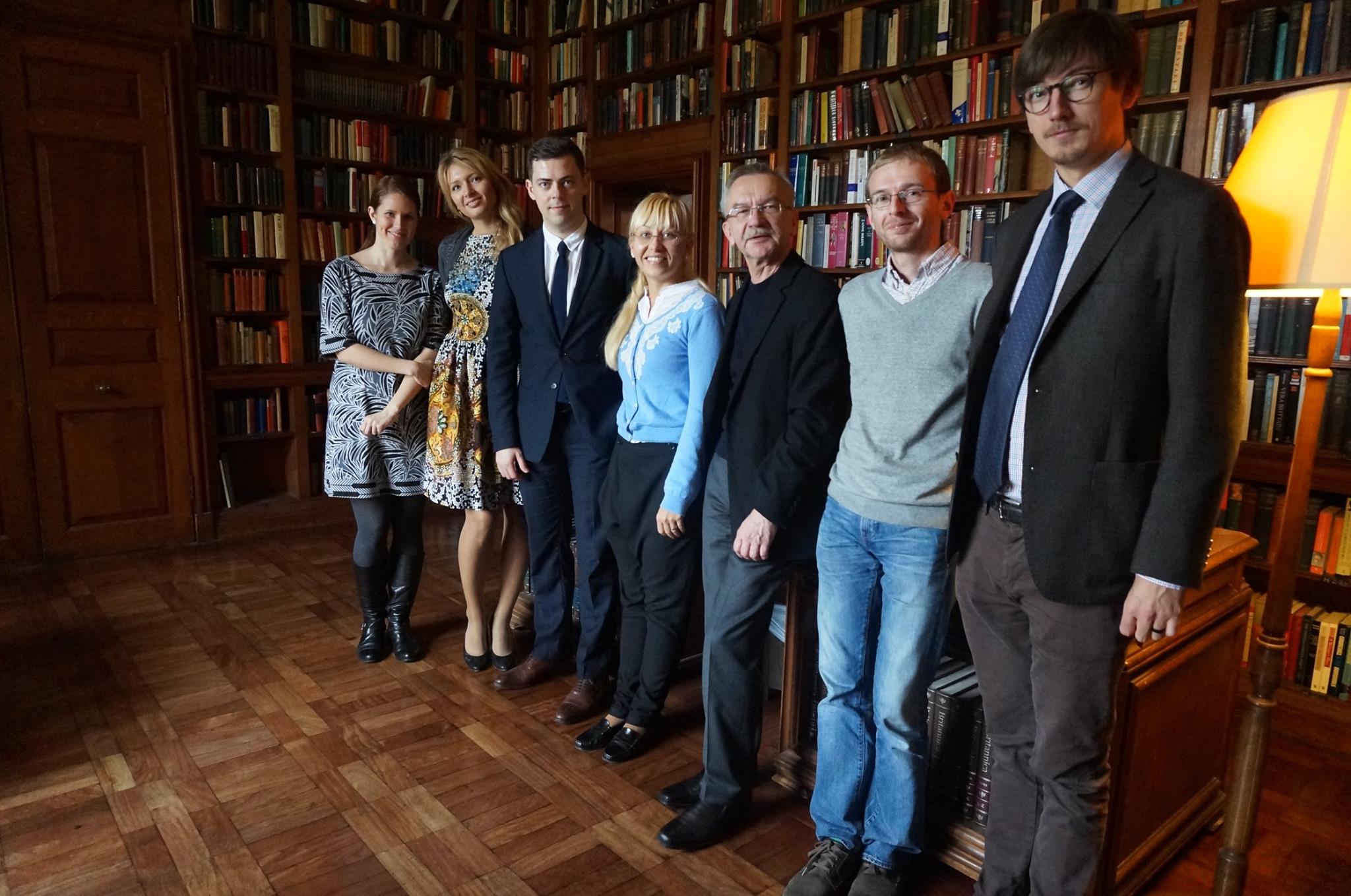 Top
News
Mar 20, 2019
Event Series: "Depicting Donbas: Creative and Critical Responses to the War in Ukraine".
Date: Thursday, 25 April 2019
Time: 6pm - 7.30pm
Venue: UCL School of Slavonic and East European Studies.
Date: Friday, 26 April 2019
Time: 10am - 4.45pm and 7pm - 9pm
Venue: Birkbeck School of Arts and Centre for Contemporary Theatre
The Birkbeck School of Arts and UCL SEES will host a series of three events over two days exploring how artists across genres are responding to the ongoing military conflict in Ukraine's eastern Donbas region.
Feb 20, 2019
Marci Shore Talk: "The Ukrainian Night: An Intimate History of Revolution".
Date: Friday, 1 March 2019
Time: 1.30pm - 2.30pm
Venue: Deakin Room, St. Antony's College, Oxford, OX2 6JF.
Join us to hear Marci Shore discuss her newest book. Marci Shore is an Associate Professor of History at Yale University, and is currently a Visiting Fellow at the Institute for Human Scienes in Vienna. She focuses on intellectual history of Central and Eastern Europe, and is the author of several books and articles published in the New York Times, the Neworker, the Economist and others.
Jan 14, 2019
Sviatoslav Vakarchuk Talk: 'Real Changes in Ukraine - a Must for a Successful Future'.
Date: Tuesday, 22 January 2019
Time: 7pm - 8pm
Venue: the Atkee Suite, Porticullis House, Bridge Street, Westminster, SW1A 2LW
To attend RSVP to secretariat@britishukrainiansociety.org
The British Ukrainian Society is delighted to host a talk by Sviatoslav Vakarchuk, lead singer and founder of Okean Elzy, social activist and philantropist, in which he will discuss the necessity of new leaders and a new political culture in Ukraine, the rule of law and justice.
Nov 4, 2018
Serhiy Zhadan: Ukraine's Enfant Terrible
Date: Monday, 12th November 2018
Time: 7pm - 8.15pm
Venue: Knowledge Centre, The British Library,
96 Euston Road, London NW1 2DB
Fee: £10
An evening with one of Ukraine's most iconic contemporary writers: poet, intellectual and ska ban frontman Serhiy Zhadan.
Chaired by Eastern Europe specialist Uilleam Blacker of University College London.
Organized by the British Library in partnership with Ukrainian Institute in London.