2014–2015
Hilary Term
Far Right Movements in Ukraine - Myth, reality and Risks
When: Thursday, 5th March, 7pm
Where: Leonard Wolfson Auditorium, Wolfson College, OX2 6UD
Oxford University Ukrainian Society is pleased to invite you to a meeting with Anton Shekhovtsov, a renown expert in Ukrainian and European far right movements. Over the last year, Ukraine has been repetitively portrayed as a country with strong and politically influential far-right movements, and accusations of fascism have been used by Russia to justify its interventionist politics. How true are these claims? What is the real influence of far-right organisations in Ukraine and who stands behind them? Is their popularity on the rise?

About the speaker:
Anton Shekhovtsov, Visiting Fellow at New Europe College (Romania), Editor of the "Explorations of the Far Right" book series at ibidem-Verlag and Member of the Editorial Board of the Open Access e-journal Fascism: Journal of Comparative Fascist Studies.
Maidan - Movie Night
When: Thursday, 26th February, 7pm-10pm
Where: DPIR , Manor Road Building Theatre
Commemorating the anniversary of tragic events happened in Ukraine, Oxford University Ukrainian Society and DPIR Film Society invite you for a movie night featuring documentary film Maidan by Sergey Loznitsa. This documentary film was officially selected for Cannes Film Festival. It depicts the events that happened in winter of 2013/14 in Ukraine, that started as a peaceful protests of hundreds of thousands civilians and soon turned into bloody street battles. These events preceded what turned into one of the biggest modern geopolitical crises in Europe. There is going to be a special pre-movie presentation as well as discussion with participants of the events.
The admission is free and refreshments to be provided.
Inter University Ukrainian Society Social
Approaching Hilary's mid-term period, members of the OUUS visited London to attend a social meeting of inter-university Ukrainian Societies. Apart from the OUUS members, a few tens of Ukrainians studying at the London School of Economics and Political Sciences, London Business School and University College London came to chat and communicate with fellows. The social, which took place in the White Hart pub, was preceded by heads of the Ukrainian societies meeting and discussing future prospects of cooperation and organizational issues of that. As the idea to gather Ukrainians turned out to enhance social cohesion, it is planned by the OUUS to host a next gathering at Oxford by the mid-Trinity.
Haytarma Screening
On January 29, 2015 the Oxford University Ukrainian Society organized a movie night at the premises of the Department of Politics and International Relations in tight cooperation with the DPIR Graduate Film Society screening "Haytarma" film. The movie portrays a Crimean Tatar pilot and a twice Hero of the Soviet Union Amet-khan Sultan against the background of the 1944 Stalin-era deportation of the Crimean Tatars to Central Asia. The movie was positively appraised by a few tens of spectators who were attracted by the event and actively inquired about the specifics of the Crimean Tatars' history.
The Ukrainian Society would like to tribute gratitude to Mr. Akhtem Seitablayev, main director and actor, who kindly provided a copy of the film to screen, and the DPIR Graduate Film Society, which assisted in organizing the event.
Michaelmas Term
Meeting Ukrainians in the Community
Following a Christmas spirit, members of the OUUS visited a senior Ukrainian lady living in Didcot. We were approached by one of the local charities working with the NHS to help elderly people in the community. Olha has been living in the UK with her daughter Larisa for more than a decade and they were both very glad to have an opportunity to speak their native language and meet young people from Ukraine. It was an enriching and positive experience for everyone as Olha proved to be an amazing woman with lots of stories to be told. A next visit is planned in February, which you are welcomed to join.
OUUS 10th Anniversary
As this term is coming to an end and Christmas and New Year are just around the corner, I am happy to invite you all to our second (and last this term) social event by Oxford University Ukrainian Society.
The event will take place at Malmaison Oxford's Cocktail Bar (4 floor) on Sunday, 30 November, at 19.00.
Also, did I mention that in November our Society celebrates its 10th Anniversary? This Sunday is going to be a perfect occasion to raise a glass and celebrate it with a drink, friends and some good music.
Facebook Event
OUUS Members Meet Ihor Dolgov
After presenting at the Oxford German Forum, the Ambassador of Ukraine to Belgium and Head of the Ukrainian Mission to NATO Mr. Ihor Dolgov met the members of the Oxford University Ukrainian Society.
The meeting took place at Campion Hall where the members of the Society had an excellent opportunity to talk to the Ambassador. Mr. Dolgov was interested in hearing about students' experience at Oxford and their future aspirations. He stated that the new generation of well-educated people will be an essential impetus and force in changing Ukraine for the better.
The members of the Oxford University Ukrainian Society also availed of the chance to get insight onto cooperation between Ukraine and NATO. After the meeting, the Master of Campion Hall kindly took the guests on a friendly tour of the premises showing precious collections of art, as well as the Hall's chapel.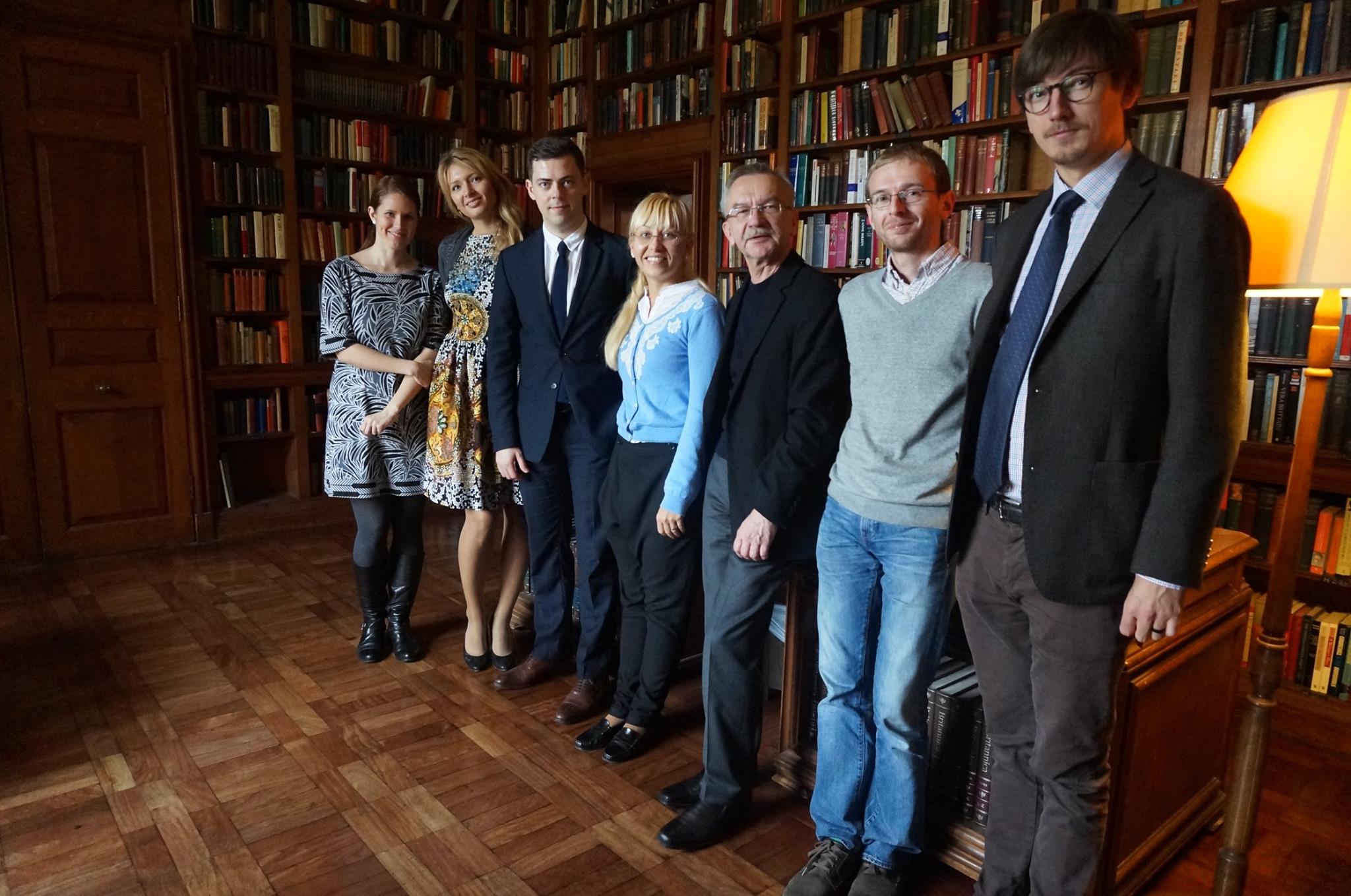 Talk by Vakarchuk
On Nov 18, 2014 one of the most influential Ukrainians, Svyatoslav Vakarchuk, delivered a talk about the Future of Ukraine, which was organized by the Oxford University Ukrainian Society.
Svyatoslav, among other things, pointed out that the Ukrainian events form part of the long-lasting fight for freedom and democracy in the country. He drew attention to the historical reasons that might well explain the current developments. One of his main points was a shift towards the creation of civil society based on democratic values and human freedoms, which are at the core of modern Western democracies. He insisted, however, that changes happening in the society should be sustainable, and it might take some time to change the situation and it is not a rapid transition but rather a continuous process of positive changes.
Although acknowledging the challenges of present, he was filled with optimism for the future of Ukraine. Svyatoslav emphasized the importance of individual contribution and personal responsibility for building a better Ukraine. In particular, young generation should lead the change.
Since many people wanted to get the first-hand opinion from more than just a prominent speaker but also someone who was actively involved in the events in Ukraine, the discussion turned out to be very productive and lively. This event was as a great success and the Ukrainian Society is thankful to both Svyatoslav and those who attended.
Top
News
Jan 14, 2019
Sviatoslav Vakarchuk Talk: 'Real Changes in Ukraine - a Must for a Successful Future'.
Date: Tuesday, 22 January 2019
Time: 7pm - 8pm
Venue: the Atkee Suite, Porticullis House, Bridge Street, Westminster, SW1A 2LW
To attend RSVP to secretariat@britishukrainiansociety.org
The British Ukrainian Society is delighted to host a talk by Sviatoslav Vakarchuk, lead singer and founder of Okean Elzy, social activist and philantropist, in which he will discuss the necessity of new leaders and a new political culture in Ukraine, the rule of law and justice.
Nov 4, 2018
Serhiy Zhadan: Ukraine's Enfant Terrible
Date: Monday, 12th November 2018
Time: 7pm - 8.15pm
Venue: Knowledge Centre, The British Library,
96 Euston Road, London NW1 2DB
Fee: £10
An evening with one of Ukraine's most iconic contemporary writers: poet, intellectual and ska ban frontman Serhiy Zhadan.
Chaired by Eastern Europe specialist Uilleam Blacker of University College London.
Organized by the British Library in partnership with Ukrainian Institute in London.
Sep 17, 2018
Sheptytsky and Holocaust
Date: Thursday, 4 October 2018
Time: 7pm - 9pm
Venue: Ukrainian Catholic Cathedral of the Holy Family in Exile, 22 Binney St, Mayfair, London W1K 5BQ
Admission: £10. 
Book here
Hosted by Ukrainian Events in London and Ukrainian Institute, London.
Andrei Sheptytsky, the Metropolitan Archbishop of the Ukrainian Greek Catholic Church, is an extraordinary figure among Christian church hierarchs of the 20th century. Presiding over the Church under the Nazi occupation of Galicia during WW2, he was put into a situation where difficult compromises had to be made while struggled to remain true to the idea of a sovereign Ukrainian nation and to protect Jews during the Holocaust.
This event will bring together a Jewish academic studying Sheptytsky's legacy and a Jewish Holocaust survivor who knew Sheptytsky and was saved by him.
Jul 1, 2018
The Revolution of Dignity - Organising a Revolution
Date: 8th July 2018
Time: 3.30pm - 4.30pm
Venue: The Jam Factory, Oxford
You are warmly invited to a photography exhibition and panel discussion about the organisation of the Ukrainian Revolution as part of the Revolution of Dignity exhibition at The Jam Factory. The panel features prominent activists and academics involved in the revolution, offering up their own experiences and answering any questions you may have. It will be another compelling and insightful event.